Welcome to
Immaculate Heart of Mary Catholic Church
in Ramona, CA
Maybe you grew up Catholic.
Maybe you think of yourself as Catholic.
Maybe you haven't been to church in a while.
Or, you are worried that you won't be welcomed here.
And maybe it feels awkward and scary to take that first step.
Question. Doubts. Yearning, but not sure for what.
We get it. We've been there. Now we are here.


Maybe God is calling you, too. Just as you are!
Welcome
HOLY THURSDAY - WASHING OF THE FEET    7pm - 9pm
GOOD FRIDAY - PASSION OF THE LORD    7pm - 9pm
HOLY SATURDAY - EASTER VIRGIL MASS 8pm & 10pm
EASTER SUNDAY - MASS 7:30, 9:30, 11:30 SPANISH  
Formed
FORMED - OUR GIFT TO YOU
2019 ACA
The 2019 Annual Catholic Appeal celebrates "Responding to God's Grace." Each year, our Annual Catholic Appeal provides each of us with an opportunity to help spread the Gospel of Jesus Christ and to build the Kingdom of God in San Diego and Imperial Valley counties. Inspired by the Holy Spirit, our dedicated bishops, priests, deacons, religious men and women and lay faithful unite in the communion of serving our Lord through acts of grace, mercy, charity and love, and works of care and compassion with your generous financial help.
Note: For your convenience, you can create a secure account with the Diocese of San Diego, which makes it easier to make online donations or view your giving history. Click here to Access
As of 3/13/19, IHM has pledges for $10,347 towards our goal of $24,000.
Stations of the Cross
English
Espanol
Divine Mercy Way of the Cross
40 Days for Life
Prayer and fasting for an end to abortion. Come join us and pray to end abortion in America. We will be meeting and praying in front of IHM tabernacle on Monday mornings at 8:45 am. With prayer and fasting, we will see an end to abortion. For further information,
call Maureen Austin at 619-787-4408
Stewardship
In biblical usage, "Stewardship" is the management of whatever a person is entrusted with, not only to preserve but profitably administer for his master, ultimately for God. Christ proposed the faithful steward as model for the responsible Christian (Luke 12:42). The Apostles are chosen stewards of the divine mysteries (I Corinthians 4:1-2), and every Christian is a steward of the mysteries of God (I Peter 4:10). Jesus praised the unjust steward of the parable, not because he was dishonest, but because of his foresight, since "the children of this world are more astute in dealing with their own kind than are the children of light" (Luke 16:1-8). This is the ultimate lesson of stewardship: that a human being is not owner but only custodian of God's gifts in this world, to use them and produce with them the fruits of eternal life.
(Etym. Old English stigweard, "keeper of the hall": stig, hall + weard, keeper.)
Lent
THE BASICS OF LENT

WHAT IS LENT? Lent is the annual preparation for Easter observance calling us to reform our lives and to open our hearts to the spiritual blessings God has promised to bestow on us. Lent begins Ash Wednesday and ends on Holy Thursday evening when the Triduum begins.
MUST I DO? According to the Church's Canon Law, all healthy Catholics from age 18 to 59 are required to fast and abstain from meat on Ash Wednesday and Good Friday, and to abstain from meat on all other Fridays of Lent. Youth 14 and older are also to abstain from meat on those days. "Fasting" means that no more than two partial meals are eaten which together don't equal the one main meal.
WHAT SHOULD I DO? Take the necessary steps to get yourself on the road to conversion and spiritual renewal. To help you do this, the three main Lenten disciplines urged are prayer, fasting and almsgiving. We are invited during Lent to practice these disciplines often. But these aren't just chores we must do because the Church strongly urges them; they are above all opportunities to grow in faith and in love for God.
WHY PRAYER, FASTING AND ALMS? The Lenten basic practices of prayer, fasting and almsgiving are rooted in Jesus' original guidance about how to be his disciples that we find in the Sermon on the Mount (Mt. Ch. 5-7). The Catechism of the Catholic Church(#1966-1972) also reminds us that Jesus here outlines for us the new law which, if we embrace and implement it, will lead us more surely to the interior renewal and growth in holiness and perfection that Jesus expects of us as His disciples.
SHOULD I SET LENTEN GOALS? Absolutely. Reflect prayerfully about your Lenten resolutions before making them. Then make yourself a list. But be modest. You may be setting yourself up for disappointment if you set unrealistic goals. And doing a little with love and devotion is spiritually more beneficial than trying to do much but doing it halfheartedly.
PRAYER:Changes our relationship with God. Through prayer, we admit our need for a power that is greater than ourselves. We acknowledge our limitations and let go of the drive to control everything. In the process, we open ourselves to all that God has to offer us.
Click on the image for more information on Lenten prayer
FASTING: Expresses our desire to find happiness in God rather than in the satisfaction of our physical needs. The control we gain over our appetites helps us recognize more deeply that all true and lasting pleasure comes from God. Knowing this we are freed to gratefully accept food and savor it, or to avoid or limit foods that we know are unhealthy for us. Through fasting, our relationship to ourselves is reoriented toward God.
Click on image for a reflection on Lenten Fasting
ALMSGIVING: Provides assistance to the poor among us and helps us recognize God as the true source of our security. Property and wealth exercise less control over us when we give away or share our wealth out of love for God and for others. Almsgiving is a way of bringing our relationship to others into the orbit of Christ's love.
Click on the image for more information on Almsgiving
Lenten Resources

Lent
Preparing for Lent? See the resources below to help you and your family have a more fruitful and intentional Lent!
For Your Marriage
For Your Marriage helps couples at all stages of life to understand and live God's plan for happy, holy marriages by providing educational and spiritual resources. Click here for more information
National Marriage Week USA and World Marriage Day Highlights the Meaning of Marriage
February 7, 2019
WASHINGTON—February 7-14 marks the annual celebration of National Marriage Week USA. World Marriage Day is celebrated annually on the second Sunday of February. This year, World Marriage Day is Sunday, February 10.
National Marriage Week USA and World Marriage Day are opportunities for "building a culture of life and love that begins with promoting and defending marriage and the family," wrote Archbishop Charles J. Chaput, O.F.M. Cap., chairman of the Committee on Laity, Marriage, Family Life and Youth of the U.S. Conference of Catholic Bishops (USCCB) in a letter to his brother bishops. Click here for more
Por Tu Matrimonio
"Por Tu Matrimonio" es un espacio para inspirar, ayudar y exhortar a las parejas de habla hispana a vivir más plenamente su relación de pareja. Para mas informacion
Amazon Smile

Did you know your purcahses can make a difference? AmazonSmile donates to Pastor of Immaculate Heart of Mary Catholic Parish in Ramona Calif when you do your shoping at smile.amazon.com/ch/27-3979770.
Advertiser of the Month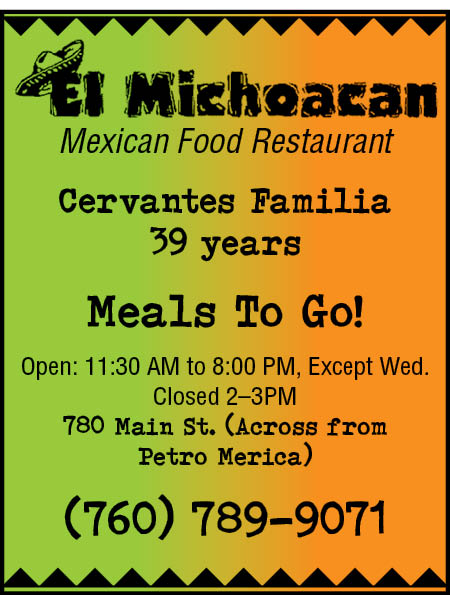 Come and enjoy authentic Mexican Food.
Daily Readings
Weekly reading
Weekly reading
Readings for the week of April 21, 2019
© Liturgical Publications Inc
Mass Times
Saturday, 5:00 pm

Sunday, 7:30 am, 9:30 am and 11:30 am in
Spanish

Holy Days, 8:00 am and 7:00 pm

Reconciliation:
Saturday at 3:30 pm or by appointment*

*To make an appointment, please contact the Parish Office 760-789-0583.
LIFETEEN News and Reflections
04/18/19 1:00 pm
04/18/19 2:00 am
04/15/19 9:00 am
Catholic Daily Reflections
04/21/19 7:03 am
04/20/19 7:03 am
04/19/19 7:03 am
Dynamic Catholic Video Series
JUNIOR YOUTH DAY 2019
WHEN: March 2, 2019 12pm-6pm WHERE: Cathedral
Catholic HS WHO: All Junior Youth are lnvited
COST: $15 (November 1-December 31) 2018
$20 (January 1- 31)
$25 ( February 1- March 1)
Please Contact Katia Perach-Owens at (619) 887-2017
for more information
We Need Catechist
Our Faith Community Needs You
Our IHM Faith Formation Program is looking for Catechists. Currently we need a 4th Grade Catechist and Co-Catechist or Assistant for Wednesday or Thursday.
If you are interested or feel called to help, please contact Tammy Mansir at (619) 851-5428. If you would like more information about helping with our Junior Youth Program please call Katia Owens, Junior Youth Coordinator at (619) 887-2017; or for High School Youth call Veronica Brewster, High School Youth Coordinator, at (760) 484-3246
Faith Formation of Children & Youth

Faith Formation of Children & Youth
All Faith Formation Programs have now started!
Happy ST. PATRICK'S DAY
Youth Group for High School:

Junior Youth News
Our IHM Junior Youth Group is off to a great start!
The Junior Youth Group provides a safe fun place for youth to find solid Catholic com- munity, to get answers to their questions about faith, and, most importantly, to experi- ence Jesus in a profound and personal way.
All Students in Grades 6, 7, and 8 are invited!
Junior Youth Group meets Tuesdays at 6:00 pm in the Social Center.
Please Contact Katia Perach-Owens at (619) 887-2017 if you have questions.
Faith Formation for Grades 1 through 5:
Classes are 6pm- 7:30 pm Wednesday/ Thursday and meet at the Social Center before separating to the classrooms.
HIGH SCHOOL YOUTH
Has your teen ever asked: "Why do I have to go to Mass?"
There is an answer to this question of "why." Altaration helps our teens understand the relevance of our most sacred Eucharist. The goal of Altaration is not to fill teens' heads with information, but to pierce their hearts with transformation. The sessions are designed to stir thought, create conversation, dispel myths, and inspire young souls to a deep and lasting love for the Mass. Join us for ALTARATlON!!!!!
Call the

Faith Formation Office for more information at (760) 789-6151.
We are blessed to be able to offer this to our youth and are excited to see them there!
COME JOIN US ON TUESDAYS!
IHM Youth Choir invites all youth in Grades 6-12
to join us on Tuesdays at 5:00 pm in the church for Youth Choir practice.
Come and sing in preparation for the Youth Mass, learn new and current worship music, and enjoy the fellowship of friends.
Call Veronica Brewster, Youth Coordinator at 760-484-3246 if you have questions.
HOW TO REGISTER CHILDREN AND YOUTH FOR FAITH FORMATION
All Registration forms are available at the Seton Center. Please come visit us at the office or call Carmen at 760-789-6151 if you have questions.
CONFIRMATION/ SACRAMENTS:
Please call the Faith Formation Office to register for faith formation and to set up a parent meeting.
Hours for the Faith Formation Office
Tuesday, Wednesday and Thursday 11am-3pm, and 4-8pm: Seton Center Friday 8:30-11:00 am at the Parish Office
Call Carmen Hayes at 760-789-6151 with questions.
---
---
UPCOMING YOUTH MINISTRY EVENTS
Thursday, February 14th, 2019: **New Program** Kindergarten Class meets in the Moth- er's room from 6-7:30. Kinder and Pre- Kinder children are invited to participate.
Sunday March 17, 2019: * *Date Update** Eucharist retreat for Children and Parent 2-4 pm in the Seton Center
---
Youth Group Volunteers Needed! We Need You! Yes You!
What you do matters! Jesus smiles when he sees your ministry. You pass on faith and hope to a future adult . You change the world one teen at a time. Teens are counting on you. If not you, then who? God has called you. Sign up TODAY to use your gifts to serve our Lord, and our teens through IHM Youth Ministry. An excellent Youth Ministry requires volunteers. Volunteers needs are wide range of gifts and skills (administrative, chaperones, drivers, fundraising, hospitality, help with small group discussions/projects and ect…). For additional information and sign up contact:
Veronica Brewster at (760) 484-3246.
---
---
2019 First Communion Students
Young Adult Help!!!!!
Young Adult Volunteers are needed!
If you are graduated from high school, you are invited to work with 6th, 7th, and 8th graders, please call Katia, Junior Youth Coordinator at (619) 887-2017; or the Faith Formation Office at (760) 789-6151.
Adults over 21 years of age are also needed!
EWTN NEWS
04/21/19 10:01 pm
04/19/19 3:02 pm
04/19/19 2:00 am
Bible Search
Integrating our Catholic Faith with our Daily lives
04/20/19 11:04 pm
04/19/19 11:02 pm
04/18/19 11:04 pm
Word of Fire by Bishop Barron
04/18/19 7:00 pm
04/17/19 7:00 pm
04/16/19 7:00 pm
Plan Ahead
Guess Who's Coming to Dinner?
What? A four part series on Advent & the Bible
When? Friday, Nov 30, Dec 7, 14, 21, 2018
@ 7-8:30 pm
Where? Immaculate Heart of Mary Church Ramona, Ca.
Who? Fr Michael Guinan, OFM, Professor Emeritus of Scripture, Franciscan School of Theology, Oceanside, Ca.
Cost? None, but the basket will be passed after each session, and if you don't put something in, everyone will stare at you!
More details to follow.
Catholic News from the USCCB
04/21/19 11:02 am
04/17/19 8:30 am
04/15/19 10:04 am
Vocations
Learning About The Priesthood
The Diocese of San Diego hosts "Explorer Day" for those men who are interested in exploring a possible vocation to the priesthood. The day is held at St.Francis Center on the campus of the University of San Diego from 8:30 a.m. to 3:30 p.m. If living a life of service for Christ and the people of God is attractive to you, take advantage of the opportunity to attend Explorer Day. Call Fr. Lauro Minimo at St. Francis Center at (619) 291-7446 for more information.
Catholic Relief Services
04/02/18 10:17 am
03/31/17 11:10 am
03/24/17 2:39 pm
Integrated Catholic Life News and Reflections
04/20/19 11:04 pm
04/19/19 11:02 pm
04/18/19 11:04 pm
RCIA 2019 Adult Elect & Candidates
Catholic Exchange
04/21/19 11:07 pm
04/21/19 11:02 pm
04/21/19 11:00 pm
Are you thinking of becoming Catholic?
The Catholic Church welcomes your interest in our Church. The initiation process has been a blessing for the Church. Those in the Catholic faith community speak of the renewal of their own faith, as they witness to those engaged in the initiation process, prepare to become fully initiated members of the Catholic Church.
The Catholic Church welcomes your interest in our Church. The initiation process has been a blessing for the Church. Those in the Catholic faith community speak of the renewal of their own faith, as they witness to those engaged in the initiation process, prepare to become fully initiated members of the Catholic Church. Contact Tammy Mansir at (619) 851-5428.
RCIA - What does it mean to be Catholic?
Please consider advertising with us?
If you are interested in learning more about placing an ad in our church bulletin or directory, please contact Travis Lawmaster at 760.270.8545, or by email at [email protected] Placing an ad raises visibility for your business in the community, and functions as a charitable donation to the parish also, which helps us tremendously. We thank all of our current and future advertisers for their support, and encourage our parish members to patronize their businesses."
Bible search
Immaculate Heart of Mary Catholic Church
Mass Times
Daily Mass
Monday - Friday 8:00 AM 4th Thursday 6:30 PM
(Spanish/Español)
1st Saturday 8:00 AM Holy Day/Holidays 8:00 AM
Weekend Masses
Saturday 5:00 PM (English) Sunday 7:30 AM (English)
9:30 AM (English)
11:30 AM
(Spanish/Español)